Racket Sport Strength Training - Build Power, Flexibility & Prevent Injury
Racket Sports strength training with a difference…
Powerball is the perfect hand-held exercise device for Racket Sports strength training. Whether it be Tennis, Squash, Badminton or Table tennis, Powerball is the perfect tool to carve flexibility and strength which will result in fast twitch muscle reflexes to improve all elements of your game.
With Powerball you can effortlessly warm up your upper limbs from the wrists up to the shoulders in the space of a few minutes.
You can target specific areas of your forearm to shoulder with isometric strength training, choosing specific areas to strengthen or warm up.
Isometric exercise is adept for endurance muscle training as well as pure strength gains.
Meaning on the court your ability to strike the ball or shuttle with both accuracy, power, and speed is increased significantly.
Powerball is also a world class rehabilitation tool perfect for the rehabilitation of repetitive strain injuries (RSI) sprains, breaks and fractures etc.
Powerball is currently used by professional Tennis, Squash and Badminton coaches and players.
Build Powerful Wrists And Grip
For all the sports and especially tennis that rely on strong wrists and grip strength, there is nothing on the planet that builds it faster – Powerball helps develop muscle power & endurance quickly and efficiently, allowing you train harder, serve harder. With advantages like finger dexterity and improved co-ordination also elements that will be improved by training with a Powerball.
Repetitive Strain Injury Prevention
Tennis requires powerful wrists & forearms capable of enduring the large forces generated during a game. Wind back for a serve and power builds in the legs; works up through the core; into the shoulders; down the arms; through the forearms before exploding into the wrists as racket makes contact with ball. The muscles generating all this power are supple and flexible, but the tendons attaching those muscles to the bone (particularly at the elbow & wrist) are not and tear easily (RSI) if not properly conditioned and maintained.
Track your strength & endurance gains
Powerballs battery free LCD meter uses magnetic energy created by the spinning Powerball rotor. This will allow you to track your progress and push yourself along during your recovery period.
Why Powerball for Racket Sports?
World class professionals, such as world squash no.7 Ali Farag and former world number 4 Miguel Angel Rodriguez use Powerball
Build Wrist & Grip Strength
Increased wrist and forearm flexibility
Strengthen arms & Shoulders
Train anywhere – Work, home, on the go
Perfect and convenient for warming up & down
Rehab from sports injuries
Cures & prevents RSIs
Non-impact – Isometric resistance exercise
Physio strength exercises
Physio strength programmes
Physio Approved. Customer Tested.
 Physician & sports professional approved
1000's of five-star reviews
Fun & easy to use
Over 4 million sold worldwide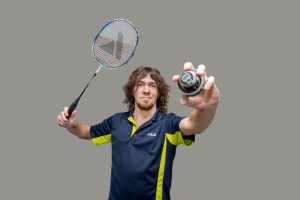 Choose the powerful, handheld gyroscopic hand exerciser that's right for you.
Powerspin

Upper Arm & Shoulder exercise & rehabilitation

280 Autostart Pro

Auto-Start, Speed Meter, Drop Resistant, 18,000rpm

280 Autostart Pro Fusion

Auto-Start, Multi Colour Rotor LEDs, Speed Meter, Drop Resistant, 18,000rpm

Titan Pro

Auto-Start, Oversized Aluminum Shell, Drop Resistant, 20,000rpm
Follow
Guidelines
Extensive, easy to follow exercise guidelines to help with your rehab and strengthening.
Week 1:
An initial workout of
3 x 30 seconds
spin sessions with a
1 minute break
between each,
repeated on alternate days.
Use your first session to establish the RPM at which you are challenged but can still maintain a solid grip on the ball.
Week 2:
3 x 30 second
spin sessions with a
1 minute break
between each,
repeated daily
.
Week 3:
3 x 60 second
spin sessions with a
1 minute break
between each,
repeated on alternate days
Week 4:
3 x 60 second
spin sessions with a
1 minute break
between each,
repeated daily
.
Remember
Initial spin speed is determined by your personal strength and fitness level as well as whether you're using the ball to rehabilitate a pre-existing injury or to help build muscle strength - always begin conservatively until you fully establish the spin speed at which your muscles are being challenged yet can still maintain a solid grip on the ball.
Progress is achieved by increasing duration and spin speed in conjunction with a regular exercise schedule. Should you experience any discomfort while exercising with Powerball® or Powerspin®, speak to your doctor or other qualified healthcare practitioner to get the best advice and support.
Watch
Exercises
Practice these short, physio-designed rehabilitation and strengthening exercises.
Finger Flexors and Extensors

Forearm Pronators and Supinators
Wrist Flexors and Extensors
Shoulder Girdle Upper Trapezius
Can Powerball® help someone you know?
Email This to a Friend
...or

Share Us on Social Media